Every office, school and professional building has three magic places that can make or break first impressions. As the leading professional cleaning service, Collective Maintenance Services is well aware of these three areas that should look and feel spotless at all times.
All of our clients know how efficient and thorough we are with our cleaning. We put a heavy emphasis on these three areas, which are also very high traffic: bathrooms, kitchens and the reception area. We know that if we get these three areas in perfect shape, the rest of your premises are easy to maintain. Because we are in times of rapid change and essential sanitising, workplaces must know where their professional cleaning service needs to put their focus.
Reception Area
The reception area seems like a given, but you'd be amazed at how often it's overlooked. Despite the need and desire for social distancing, a reception area is still a place of congregation. Having a professional cleaning service ensures that your reception is equipped with hand sanitisers and clean seating, tables and floors. While also making sure that everything is sanitised and presentable for your employees and customers once we leave your premises.
Restrooms
Bathrooms should be clean and sanitary at all times. We always supply bathrooms with hand wash, paper towels and toilet paper when necessary. Along with cleaning the trash bins and sanitising every surface possible, we keep the mirrors, doorknobs and latches scrupulously clean. It's not just about first impressions; it's also a matter of safety and health!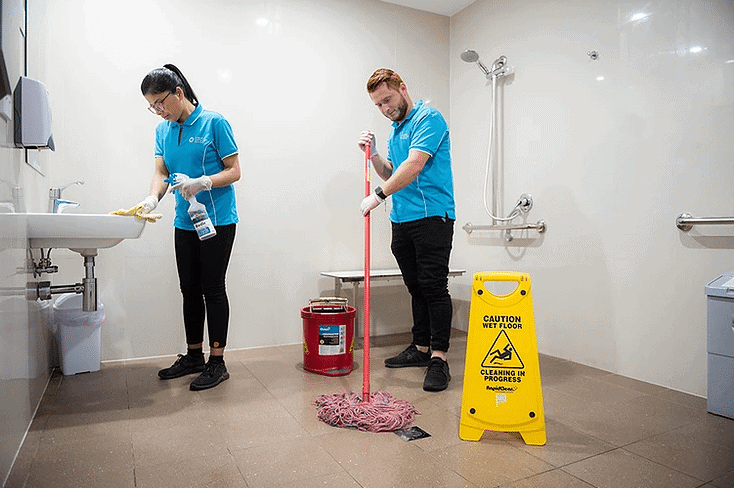 Kitchens
As much as you hope your employees will clean up after themselves in the office kitchen, every professional cleaning service knows that they can't do our job for us. We work to clean every aspect of your kitchen, including the floors, tables, microwaves, benchtops, handles, refrigerators and so much more. We clean, sanitise and make sure it's spotless. A messy kitchen is a breeding ground for bacteria, stench and unhappy employees.
Our reliable and well-trained staff are conscious of the importance of keeping your workplace absolutely spotless, starting with these three essentials. Although we have always been a reputable and professional cleaning service, we are focusing on cleanliness like never before. Contact our friendly customer service today to find out about our affordable rates and flexible scheduling.